COMMITTEE MEMBERS - COMITATO
Click on each committee member's name to learn more.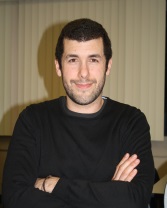 President


➤Domenico Cassanego

X

I emigrated 3 years ago and I joined the Trevisani Nel Mondo a few weeks after I arrived. Since then, I have realized how important is to be part of an association, that even if so far from home, keeps the traditions alive. Being an active part of this association allows me, along with all the committee and the members of the Trevisani nel mondo, to keep our traditions alive for the old and new generations.
Vice President


➤Sandra Gagne

X

I was born and raised in Vancouver, I have been on the Trevisani comitato since 1991 and I spend much of my free time volunteering with various organizations. Ieri, oggi, domani, viva i Trevisani!

Treasurer


➤Sandra Crema

X

Sandra Crema born in Vancouver 1965. Parents from Giavera del Montello, mamma from San Zenone. I have always been proud of my heritage, but even prouder to be Trevisana. I have been on the committee for 3 years.

Secretary


➤Emanuela Rossi

X

I immigrated to Canada when I was 5 years old from Castelfranco Veneto. My parents always maintained the "trevisano" dialect and customs so I was very happy and honoured to have joined the Trevisani Nel Mondo in 1999. I wanted to be able to pass on the heritage and traditions to my children and grandchildren and what better way than to participate in the Trevisani events here. In my spare time I enjoy spending time with family and friends, scrapbooking, reading and travelling to hot destinations whenever I can.
Cultural Director


➤Teresa Perizzolo

X

My parents come from Carpenedo (Vedelago) and Ospedaletto (Istrana), and I was born here in Vancouver. I have been part of the Trevisani since 1999, first as Treasurer and for the past several years as Cultural Director. Since being a part of the committee, I have had the pleasure of meeting, either online or in person, many fellow Trevisani at different venues all over the world. In my spare time, I enjoy baking, scrapbooking and connecting with people on Facebook!

ICC Delegate


➤Fiorella Pizzolato

X

I was born in Italy at the age of 9 moved to Canada with my family. After high school graduation moved back to Italy, my love for my country. After spending 23 years in Italy I decided to move back to Canada to be close to my family. I am an education assistant in the Maple Ridge school district. I was a Trevisani member even in Italy, comune di Paese, now part of the Trevisani in Vancouver and part of the comitato for about 6 years now. My free time is divided between traveling, my family and keeping contacts with my friends and family in Italy

ICC Delegate


➤Dino Bertelli

X

My name is Dino Bertelli I have been on the Trevisani nel Mondo committee for 10 Years. I am married and have four adult children. My Mother was born in Paese, and my father from Quinto in Treviso. I enjoy being a member of the Trevisani nel Mondo I have met so many people and it has expanded my knowledge of my heritage.
➤Lora Dal Monte

X

I was born in Vancouver, the daughter of Italian immigrants from Bassano del Grappa. I have lived here all my life and am a proud East End girl. I love to cook for my friends and family. This is my first year on the committee. I'm looking forward to meeting new people and enjoying the Trevisani community.




➤Sonia Jacoboni

X

Immigrated from San Zenone , Treviso in 1964 I have worked at the Royal Bank for 25 years. I have 2 kids. I belong to the ladies group for St. Helen's ( M & M) for over 30 years This is my 6th year with the Trevisani committee.




➤Settimo Perizzolo

X

I came from Castelcucco in 1975 as a young man of 17. I got involved with the Trevisani in 1999, as part of the committee. In 2003, I was elected president and held that position until March 2020. I have seen the number of members increase each year, but the most important thing to me, is seeing the numbers of young members joining. In my spare time, I enjoy wine and salami making, gardening, and travelling to meet other Trevisani from around the globe at their events.




➤Bortolo Rinaldo

X

Bortolo immigrated to Canada from Chiarano, Treviso in 1958. He's the father of three and has five grandchildren. When he's not working on his award winning garden and fundraising for childhood cancer research via his Christmas lights, he can usually be seen volunteering for various Italian society's. Most notably he has been a dedicated executive member of the Trevisani nel Mondo Vancouver since 2005.




➤Renzo Parisotto

X

I was born in Loria, Treviso and moved to Trail, BC in 1967. There I worked as a machinist and soon after sent for my fiancÚ Imelda. We moved to Vancouver a few years later and have lived amongst our fellow Trevisani ever since. I have been a part of the comittato for almost ten years and really enjoy cooking the pasta at the picnics and Befana. I volunteer with St. Helens Parish, the Mission Society and Notre Dame High School. I spend lots of time in the garden, fixing anything that is broken and staying busy!




➤Ivana Baratto

X

I was born in Vancouver but both of my parents immigrated to BC from Carpenedo and Ospedaletto. This is my first year as a committee member and maybe more to come! In my free time I like doing crafts, baking and working out.



➤Stefano Fregonese

X

I came here in 2017 as a Ph. D. Student at UBC, since I was here, I've participated in multiple Trevisani events and finally got involved in 2020 as a part of the committee. I'm from Valdobbiadene and I'm looking forward to giving my contribution to this organization.




➤Milena Lancerin

X

I'm Milena, I was born in Bassano del Grappa and I moved to Vancouver two years ago. As soon as I arrived, I was welcomed by the Trevisani nel Mondo group, and I decided to join this amazing organization to keep our origins alive and welcome any new immigrants in this city.




➤Maela Lovisetto

X

Ciao a tutti! My name is Maela and I moved to Vancouver 2 years ago from the beautiful Zenson Di Piave (TV). Even though I decided to completely change my professional and personal life and move to the other side of the world I am very proud of my birth city (Forza Giallo Blu!) and heritage therefore I am very excited to be member of Trevisani and keep our traditions ongoing.



➤Marisa Gagne

X

I was born here in Canada, and now live and work in Vancouver. I spent my childhood watching my mother and grandparents devote their time to strengthening the Trevisani Nel Mondo, and seeing how rewarding their experiences were. As I grew, I had more opportunities to volunteer and take part in events. Now, I'm grateful for the chance to take a larger role and contribute more to our organization!




➤Susi Stefanon

X

I was born in Vancouver; both of my parents were immigrants from Istrana (Pezzan and Ospedaletto). I am retired as of 2018, having worked for TELUS for 37 years. This is my first year as part of the committee and I am looking forward to working with other members to keep the Trevisani spirit alive and having fun with our amazing Vancouver organization.